Health and Social Care Levy announced
News
David Rose
08/09/2021
Click to share to a social media platform.
The 7th of September was a bumper day for government policy announcements, although few will be welcoming the additional cost that is expected to follow.
Prime Minister Boris Johnson, alongside Chancellor Rishi Sunak, announced a wave of measures designed to bring in additional revenue to support the NHS and social care. The headline amongst those policies was a 1.25% rise to national insurance rates for one year starting April 2022. This will supposedly affect businesses, the employed and the self-employed and so the effect will be wide-reaching.
From April 2023, this change will be reversed, and the national insurance rates will fall to their current level. However, a new, "Health and Social Care Levy" will be introduced at the rate of 1.25%. Unlike national insurance which stops being payable at a certain age, this new Levy will apply to anyone with earnings above £9,568 (including those that do not currently pay national insurance because of age). We expect this to be payable by the self-employed as well as employed.
Businesses are also expected to pay more, although Prime Minister Johnson did say that 40% of smaller businesses would pay nothing at all; as always the devil will be in the details.
Whilst the media had been talking about this increase over the past few days, perhaps the most surprising additional announcement was that the dividend rates will also increase by the same amount, taking them to 8.75%, within the basic rate band, 33.75% at the higher rate band and 39.35% at the additional rate band. We do not currently know whether these changes will be permanent, although we expect it likely they will stay with us for at least the medium term. With corporation tax rates increasing in April 2023, we expect there to be significant value in reviewing remuneration strategies to ensure they are as effective as possible.
This tax increase is designed to pay for two things; the NHS and, in the longer term, social care. To that end, from October 2023, no-one starting care will pay more than £86,000 over their lifetime; nobody with less than £20,000 of assets will have to pay anything at all and someone with assets between £20,000 and £100,000 will be eligible for means tested support.
The table below shows the estimated amounts that will be payable by the increase to national insurance in April '22.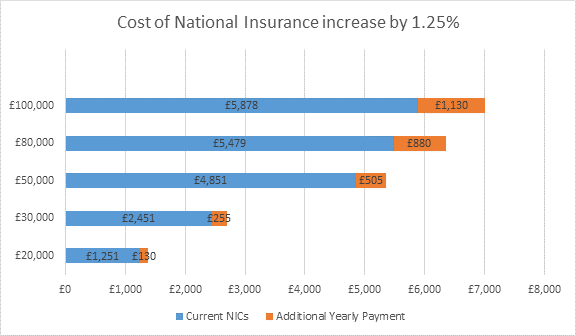 Further updates on the new national insurance rates and levy will likely be included in our updates that will come out around the Autumn Budget, which we understand will be held on the 27th October 2021.
If you're interested in reading more about these changes, the Chancellor set out the reasons behind these policy changes, and you can read the transcript here: https://www.gov.uk/government/speeches/health-and-social-care-press-conference-rishi-sunak