Upcoming Coronavirus Job Retention Scheme (CJRS) changes
Client Support
10/05/2021
Click to share to a social media platform.
As we have seen on numerous occasions since 'furlough' was introduced to the UK payroll system last March, this month sees a new change to the Coronavirus Job Retention Scheme (CJRS) rules, with a further change to follow in July.
Changes as of 1 May 2021


Previously, you were only able to claim for employees who were employed on 30 October 2020. However, for periods starting on or after 1 May 2021, you can now claim for employees who were employed on 2 March 2021, as long as you have made an RTI submission for them between 20 March 2020 and 2 March 2021. Therefore any new starters from 31 October 2020 – 2 March 2021 can now be included as part of your furlough claim.


Changes as of 1 July 2021


As in the previous year, from 1 July 2021 the level of grant will be reduced to 70%, with it decreasing further to 60% for both August & September. As an employer you will be asked to contribute towards the cost of the furloughed employee's wages. Employees are still required to be paid at least 80% of their wages, up to a cap of £2,500 per month. An employer is still able to 'top-up' the employee's wages so that they receive their full monthly gross pay.


The table below shows the level of Government funding available: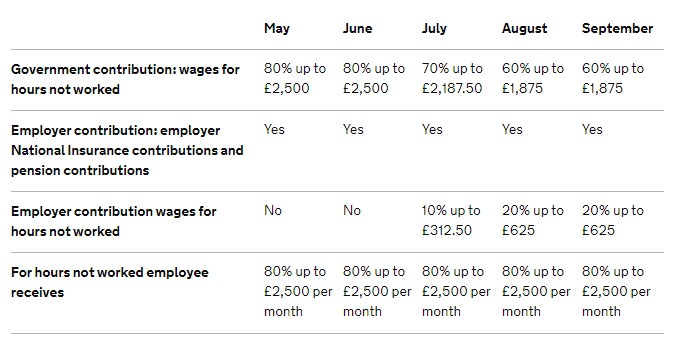 As a reminder, you do not need to have previously claimed for an employee before 30 October 2020 to claim, and employers can furlough employees for any amount of time and any work pattern.


If you need any help with your furlough claims, or processing your payroll, then please do contact Hannah Dumenil, Head of Payroll at Rickard Luckin, on 01268 548127 or [email protected] .