Important advice for claiming your employees' wages through the Coronavirus Job Retention Scheme
Client Support
Hannah Dumenil
07/04/2020
Click to share to a social media platform.
ARTICLE UPDATED AT 08.04.2020 - HMRC has now announced that you must have an online business PAYE account in order to make any Coronavirus Job Retention Scheme claim.
Enrol for PAYE Online

The government have also confirmed the launch date of the portal will be 20 April 2020, however they also state that this can take up to 10 days in order to complete the registration. How you enrol then depends on whether you already have an online account for other taxes, for example Corporation Tax.


What if I already have an online account?

If you have an account already, you can login to HMRC Online Services, select the option to enrol for 'PAYE for Employers' under 'Services you can add', and enter your PAYE details. If you require a copy of your PAYE details you should contact your payroll account manager.


I do not have an online account

The Government have now stated that if you already have an agent who is authorised to act on your behalf, that authorised agent can submit this on your behalf and therefore alleviate the need for you to take it upon yourselves to enrol online.
If you are planning to enrol as a new user yourself though, you can do so by clicking here and selecting 'PAYE for Employers' before following steps below:

1. Enter your business / person email address
2. HMRC will send you a code to confirm the email address, enter the confirmation code
3. Once you have entered the code it will ask for your name and a password
4. Once you have set up your password, you have to set up a recovery word for your sign in details
5. Once all the above steps have been completed you will be provided with a 'Government Gateway' ID – keep this secure, write it down somewhere as you will need this ID and password each time you sign in to the Government Gateway
6. This will then take you straight into the business tax summary, copy below of the view;
7. Click 'add a tax, duty or scheme' which is on the left under the 'Set up your business tax account' heading.
8. You will then be asked 'what do you want to add' – you need to select 'Employers or intermediaries, for example PAYE for employers or CIS
9. The next question is 'Which employer tax or scheme do you need?' – you need to select 'PAYE for employers'
10. The next question is 'Do you have an employer PAYE reference?' – the answer is yes
11. The next question requests your PAYE information, a copy of this screen is below;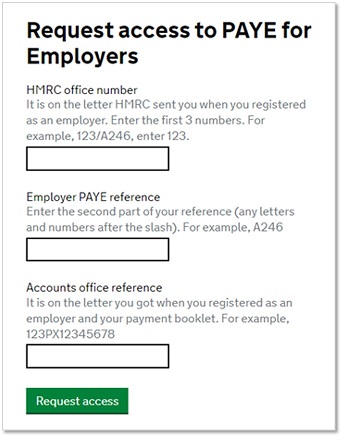 12. Check the P32 that we send to you monthly, all the information you require will be on the P32 in the top right
13. HMRC office number – this is the first 3 numbers on a PAYE reference, for example 123/ABC – therefore you would enter just the first 3 numbers before the backslash.
14. Employer PAYE reference – this is the rest of the PAYE reference, for example 123/ABC – therefore you would enter the data after the backslash such as ABC in this example
15. Accounts office reference – this is also detailed on the P32 named 'Collectors reference' – enter the full reference from start to finish
16. Once filled in please click request access
17. You will get a letter in the post to the registered address within 10 days which will include an activation code
18. Once you have received the letter – log back into HMRC online services within 28 days of getting your code https://www.access.service.gov.uk/login/signin/creds
19. Activate the services by entering the code on the letter
20. Congratulations! You are now set up for PAYE online
Please note that with the current climate it may take longer than 10 days to receive the activation code. It has been raised with HMRC by ICAEW that companies may not be able to receive the authorisation code due to this being the registered office address and therefore not accessible at this time. This is however the current guidance issued by the Government at today's date, and of course we will keep you up to date with any changes that may arise on the posting of activation codes.

If you require any support or are concerned regarding any of the above, please contact our Head of Payroll, Hannah Dumenil, on [email protected] to ask her any questions you may have.